Hello and welcome to a new blog series. This series will act as an insight into the life of a PhD student and graduate teaching assistant; i.e., my life. My name is Oliver (Ollie) Herdson and I study and teach at the University of Kent. My research is focused on the cognitive and social aspects of mental health issues, namely depression. The point of this blog is to simply provide one perspective of the PhD experience. Even within Psychology it is wildly varied, before even thinking about how it varies from subject to subject. Instead of providing any sort of 'how-to' guide to being a PhD student, I wanted to offer some more personal and anecdotal insights.
Across this series, I will recount the stand-out moments from my PhD journey: the moments that have stayed with me to this day and that helped me become who I am now.
Me
Undergraduate
There is no better place to start, therefore, than with my background. After finishing sixth form, I started at university studying psychology. I had no additional components to my course (such as clinical or placement components). I worked hard and achieved a 1:1 while working part-time at a supermarket with as many hours as I could pick up. After finally releasing a sigh of relief as my undergraduate came to a close, I decided it was time to begin all over again and applied to enter a MSc course at the same university. After talking to my final-year supervisor, we found that our research interests had aligned and thus I began writing my research proposal. Realising that academia was my preferred career trajectory, I opted for an MSc by research – meaning I had little-to-no taught modules.
MSc – Research
As I was self-funding – funded by my time working in the freezer aisle at the local supermarket – I was accepted quickly. I began work on my research immediately. This was, simply put, a project looking at how we experience sadness and trying to work out why we sometimes opt to listen to sad music even if it makes us feel more sad. To my surprise, I was given the opportunity to supervise three final year undergraduate students, who would partake and help run my studies. This was a really great experience for me and, even though this all happened remotely (due to COVID), it was a fantastic introduction to the supervisory and teaching role that I knew I wanted to eventually gain.
The MSc was tough but assured me that academia and research was indeed the direction I wanted to take my professional life in. All that was left was for me to finish my dissertation and begin applying. Having a strong working relationship with my supervisor, and having some good supervisory experience of my own, I entered into a graduate teaching assistant scholarship program at the same university.
PhD and Teaching
Doing so consisted of a written research proposal as well as a presentation in front of a panel of the university's lecturers. Admittedly, at the time I thought I stood no chance of being accepted and so the nerves never really hit me. The interview process was done and all I had to do was wait.
Fast forward a few months and I woke up to a serious sounding email. As I opened it, I saw the good news awaiting me. But with it, came the nerves that I'd been putting to one side for months. All at once I realised this would mean that I would be starting a PhD and teaching all within the month. To say I felt daunted would be no exaggeration.
I was in it now and, after I had processed the news, felt ready to take on this next chapter. Now, as I enter my final year, I wanted to take the opportunity to recount the last couple of years and hopefully be able to help out any others who might be feeling daunted before starting a similar experience of their own.
This blog series
The rest of this series will look at the three sides of my current academic life: (1) research, (2) teaching, and (3) supervising. I want to make sure this is a productive series while also offering fun, personal, and meaningful anecdotes.
Thank you for reading and I hope to see you all in the next entry in the 'Life of a PhD Student' series.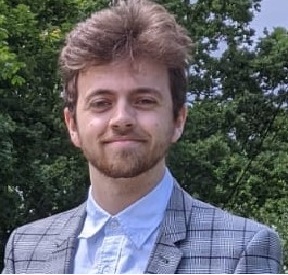 Oliver Herdson
PhD Student and Graduate Teaching Assistant