AI and virtual reality (VR) are becoming revolutionary tools in scientific research and education. In this exploration of recent advancements, we'll uncover how these technologies are being utilised to train, enhance collaboration, and push the boundaries of traditional methods. In one respect, these techniques may reduce researcher/scientific labour. On the other hand, however, there are techniques that could see the improvement in methods moving forward. recently learned about a laboratory that had incorporated AI into its practices.
AI Avatars: Beyond The Conventional Laboratory
By utilising AI avatars, researchers have created a virtual environment that enables 24/7 access to laboratory facilities and expertise. AI avatars, designed to resemble real-life people, can answer questions and provide assistance on various laboratory topics such as inventory, safety, and stock.
Voice Activation and Real-time Interaction
The AI avatars are voice-activated, and users can interact with them as they would in real life. They can draw in 3D space, ask questions, and discuss concepts. These avatars are available around the clock, making them an excellent resource for learning and collaboration.
Integration with Virtual Reality
Virtual reality plays a critical role in this technological advancement. Researchers have integrated AI avatars with VR to facilitate remote access to buildings and equipment. This has proven particularly useful in a globalised world where collaboration across different time zones can be challenging.
Multilingual Avatars
Recognising the need for global inclusivity, recent developments have included multilingual avatars. These AI avatars can communicate in various languages such as Arabic, Spanish, Mandarin, and more, allowing non-English speakers to engage with the technology and not miss out on valuable information.
Challenges and Innovations
Global Collaboration
While VR has been a fantastic tool for global collaboration, time zones remain a challenge. Digital virtual centres were developed to ease this issue, allowing international teams to meet and discuss different concepts.
Training and Learning
Training with new technologies often requires significant time and resources. Virtual reality has been instrumental in this regard, permitting remote access and training on specific equipment. Additionally, intelligent AI avatars serve as constant mentors in the lab, imparting knowledge and assisting with the learning process.
Language and Accuracy
Although the AI avatars are quite accurate, translating specialised knowledge into different languages can be a challenge. French translation, in particular, has been identified as an area of weakness, but overall, the avatars show an 85 to 90% accuracy rate in other languages.
Accessibility and Future Directions
The technology has been developed in such a way that non-programmers can build and utilise it, making it accessible for various disciplines, such as chemistry. Some key areas of further exploration include refining language translations and expanding the use of AI to support specific specialisations.
The ideal future sees an AI avatar working full-time in the lab while human experts can remotely supervise, collaborate, and innovate through VR. The emphasis is on AI as a helper, not a replacement, to humans.
Conclusion
The integration of AI avatars with VR is opening up new avenues in scientific research and training. By blurring the lines between the real and virtual world, this technology is promoting global collaboration, facilitating advanced training, and pushing the boundaries of conventional laboratory work. Its accessibility and ongoing innovations make it a promising tool for shaping the future of scientific research and education.
This post summarises a lecture by Stephen Hilton on Use of AI Avatars in Advancing Scientific research and training, hosted by Digitally Enhanced Education Webinars at the University of Kent. The lecture is available on YouTube.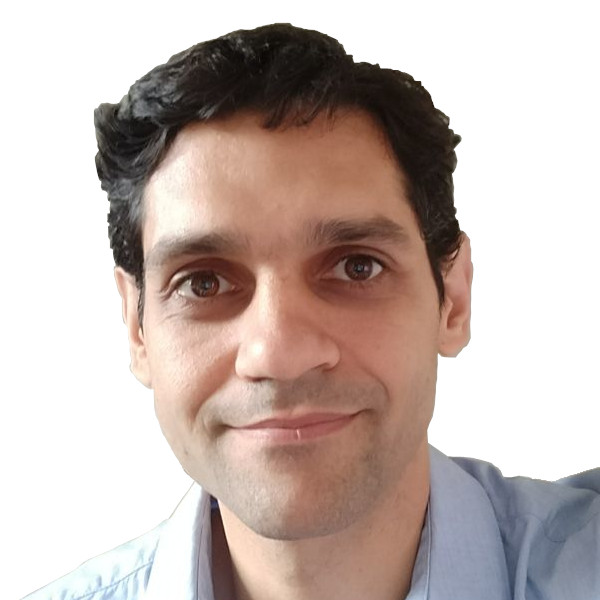 Amir-Homayoun Javadi, PhD
Founder and CEO at 0&1 LTD